Foreign language free - Learn foreign words with paper board game - do-it-yourself for 15 minutes. Reading entirety
Educational paper board game OFLAMERON allows transforming entertainment to educational entertainment. For example, when it's needed to occupy children with anything on a visit, in hotel, in sports camp etc. We use board game OFLAMERON to learn foreign language.
Game requires simple cards with fragments of foreign words. Such cards can be designed in MS Word, downloaded from website or written by pen on a paper and cut. For example, as in picture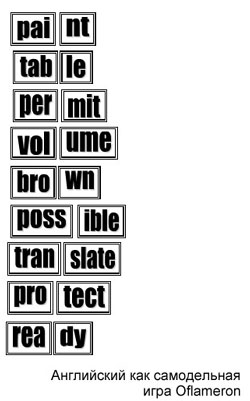 One game session requires 20-30 words. It's only 10-15 minutes needed to write them on paper cards by marker pens.


Cards can also be just downloaded and printed in MS Word format.
Cards take little place, they may be stored in envelope and taken on a trip.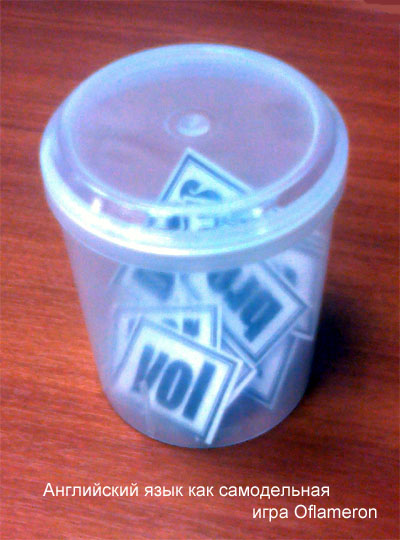 It's very easy to play. Cards are being put on a table and players should take them, combine full foreign words and translate them. He who names and translates more words, wins.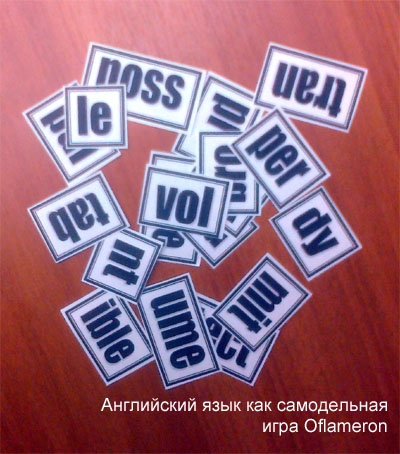 Despite the simplicity, such educational method is very comfortable: for it takes little time, can be held anywhere with 10 minutes of free time and doesn't bore a child.
Sessions may be held as competitions. Each player prepares his own card set. Then pairs of players swap card sets and everyone completes his own task - makes words. Competition can be time-based.


Cards can be used in different game modes.

If you prepare card sets for printing, they may be used in advertisement campaigns or to promote websites - place your advertisement information in files with card's designs which are meant for downloading.


Teaching method and all materials of game are authentic, developed by Valery V Shmeleff (author) and protected by copyright.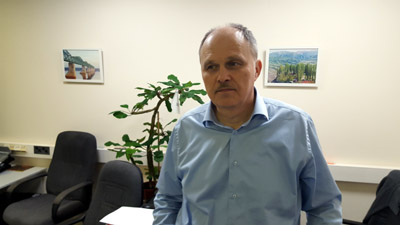 No accounts in Facebook, Twitter, VK, OK

Foreign language

(c) by Valery Shmeleff http://www.oflameron.ru http://www.shmeleff.com
Students can memorize 500 foreign words in a week or more. This is a very effective method of remembering. You can download, print and learn.